This is a question I get asked a lot: How can I answer the biblical call to orphan care if I am not able to adopt?
God does not hide his will from us and if you are someone who has earnestly sought God's will concerning adoption and he has not led you to adopt (or has not led you to adopt right now), there are other very valuable ways that you can serve the most vulnerable children in our world today.  If you have a heart for orphan care—whether or not you are able to adopt—here are ten invitations to orphan care for you to pray over:
Original photo by flickr user Moving Mountains Trust, creative commons.
1. Host an orphan in your home: This is one of my favorite ways to get involved in orphan care without adopting. New Horizons is an international orphan hosting program. US families host children for 4-6 weeks in their homes and pour love into them. The children see what it is like to live in a family and have opportunities and they have their "horizons" broadened. The goal is not for the host family to adopt the child, although sometimes either the host family or family friends will go on to adopt after the experience. The goal is to show the child a life other than the one he knows and give hope for a better future. Please take a moment to sign up for the photo listings and ask yourself if you have 4-6 weeks to give to one of these children.
2. Get your church connected to an orphanage:  I found our about the organization The Hope Epidemic through an instagram hash tag of all ways (although I #cantrememberwhichone) and I am so impressed with what I've seen through them. Their mission is to connect American Evangelical Churches with orphanages all around the world. They want these churches to connect in order to share the gospel, to build relationships, to better the orphanage environments, and to advocate for the adoption of children in the orphanages. I've always wondered what it would look like if the church arose to take care of our orphan crisis once and for all. The Hope Epidemic is trying to do just that.
3. Donate on behalf of children with special needs: Reece's Rainbow is a Down Syndrome adoption ministry. You can look at pictures of waiting children with Down Syndrome or other special needs on this site donate to a specific child's adoption, whether or not a family has been found for them.

4. Support an orphan graduate program: There are a few different orphan graduate support programs out there but Hearts for Orphans caught my attention because it is run by adoptive parents and shares the gospel with orphan graduates. When orphans age out of the system most turn to crime, prostitution or suicide simply because they don't have any support systems or life skills. Orphan graduate programs work to equip teens with life skills, like cooking and budgeting, and help them find meaningful work. Hearts for Orphans works in the Ukraine. If you have a specific country on your heart, do a google search for "orphan graduate support" + "country." If you can't afford to donate to these ministries, consider volunteering for one in your area! Organizations like these always need volunteers to do tasks like photocopying, putting mailers together or even cleaning.

5. Advocate for a specific child: Project Hopeful is an organization that educates and advocates for the adoption of children with HIV and other special needs. Their FIG program (Family In the Gap) exists to match families with orphans overseas. As as a FIG family you would pray for, sponsor, and fundraise for the adoption of a specific child. You can also be matched with an unadoptable child (in their home country's foster care system) and you would support the foster family as they care for the child. This is such a cool program and I love how you can get your whole family involved. I can picture families with children working together to brainstorm fundraising ideas (summer lemonade stand??) to help with the child's someday adoption costs.
6. Help parents and families in crisis: Safe Families is a movement by Bethany Christian Services that serves families who need safe, temporary care for their children. From the website: "This network of host families help parents who need to temporarily place their children due to unmanageable or critical circumstances… this temporary care for children in need gives parents time to establish stability in their homes. Can you open your home to a family going through a troubled time?" There is a video on their site that's worth watching if this movement interests you at all.
 
7. Sponsor a child: Most of us are aware of these programs that help provide food, water, and education for children in developing countries. If you have a heart specifically for orphans, you can use Compassion International's search tool to find and sponsor a child who has been orphaned. You can also select country or special need if you desire. I've heard of families sponsoring children who share birth dates with little ones. Some couples honor the loss of a pregnancy by sponsoring a child who was born around the time of the expectant due date of the baby they lost. When you sponsor a child you have the opportunity to do more than just give money; you can correspond with the child, send gifts, and share the love of Christ with her!
8. Give to an adopting family: Whether you're able to write a $500 check or sell knit-wares online for cash, donating to a family who wants to adopt is a much needed and very fulfilling way to answer the call to orphan care. If you are wondering how much a $30 donation could help just take a look at my son and know that he didn't come home via a few enormous donations. He came home though a ton of small ones. Every.penny.matters. Also there are nonprofits like Lifesong and The Sparrow Fund who give grants to adoptive families if you want to give to them so that they can continue to serve adoptive families. If you have no money or wares to sell you can help by offering your services. Maybe they need babysitting or volunteers at a fundraiser. Maybe they need someone to mow their lawn because they just don't have time between working and completing the home study. If you look hard enough I know you can find a way to help!
9. Send care packages to orphanages: In the end of January, my church asks all the congregation members to use one Sunday for an act of service. This year our small group used the Sunday to put together a care package for Arie's former orphanage. If you know anyone who has adopted, consider sending a care package to their child's former baby home or foster home.
10. Support Antihuman trafficking efforts: Because orphans are so vulnerable and too often without protection, they are at increased risk of being trafficked.Take a minute to visit WAR International's website and view the video on their about page to learn more.
_______________________________
Don't forget about the easy way you can support adoption and care for orphans…through shopping. Go find some Mother's Day gifts for your mother…or yourself…HERE.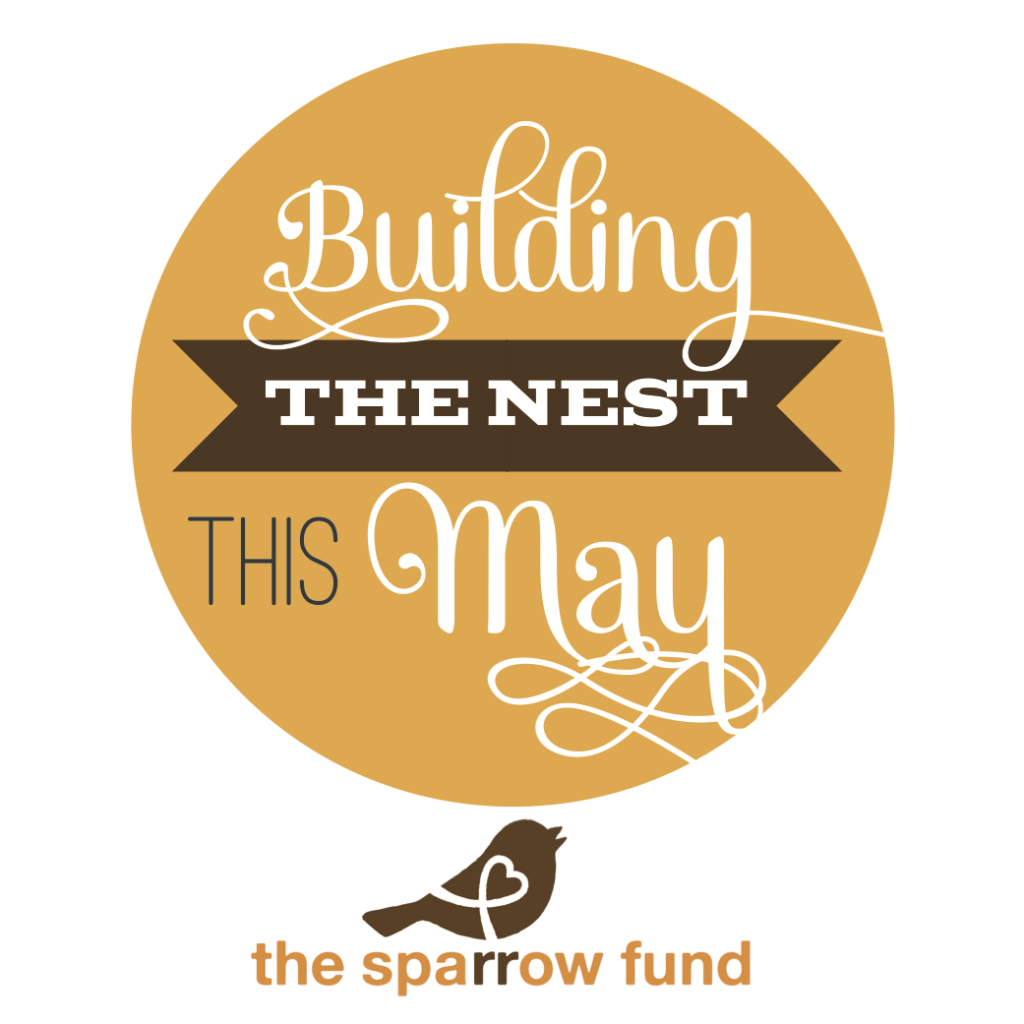 _______________________________
Jillian Burden is still adjusting to this beautiful thing called motherhood; she and her husband are still new parents to a son by way of a Russian adoption. While her belly might not have expanded, her heart and her faith sure grew as her family did! You can read about this soul stretching journey to parenthood on her blog.
Like it? Share it.
Sometimes Lily talks about wanting to go back to her "old place," as she calls her orphanage – her home for 4 years. She was loved there. She was a sick little baby who against the odds grew to be a sick little girl, sick but spunky. Her referral described her as "stubborn and coquettish" and it was all too true. We've been learning a lot from this little firecracker.
It was one of those moments when discipline seems unfair and being the littlest and having to follow rules is simply no fun anymore… "I want go back my old place." she said, chin quivering a little bit.
Wrapping her arms tightly around Lily, my mom told her about how sad we all would be if Lily left. She was in our family now, she was our special. Lily squinted her eyes, pursed up her lips and blushed the way only she can when she feels loved and wanted. "I stuck," she said.
Since that day, the word "stuck" has earned itself a new meaning in our family. "I stuck with you," Lily says as she snuggles close – knowing that she's safe and wanted and that the love of a mama and daddy won't ever run out. "I stuck" she'll sullenly announce when the little responsibilities of being in a family get tiresome. "We all stuck…" she'll figure, naming each of her big brothers and sisters – all of us part of a big stuck-together-family.
She was sitting on her bed, ready to turn off the lights and go to sleep when she started remembering. "You meet my friend?" she asked. "At my old place?" Oh, yes, we did meet her old roommates when we visited her orphanage at the time of her adoption. There were three bunk beds, so six girls to a room. She had been the littlest, and three of the girls still in her room had been her friends. They remembered her, even though it had been over a year since she had slept on her bottom bunk. They called her name and she introduce her family. Her family.
"On my friends," she continued, "she not stuck. I think… probably… she want be stuck."
"Can we pray for her?"
This was the first time that we heard Lily express and acknowledge the fact that the friends from her "old place" are still orphans, waiting for a mommy and daddy of their own. They're waiting to be stuck.
"Claire stuck. Levi stuck. Joshua stuck. Yanyin stuck." Lily goes down the list of her friends. "Ohh… (she remembers other close friends who have yet to be matched with families)… they stuck? We pray for them."
Let's join Lily in hoping and praying that one day, every child knows what it is to be wanted, chosen and stuck.
________________________
When Hannah traveled to China in 2002 with her parents to adopt her sister Elisabeth, she fell in love with the country and people. In 2004, when her other sister Naomi was adopted, she started dreaming of going back. It took 5 years for that dream to come true. She now serves in a foster home for special needs orphans in China. Hannah spends her days studying, writing for the foster home and on her personal blog, Loving Dangerously, and most importantly, holding babies. Hannah loves the adventure of living overseas with her family. It's not always easy, but it's always worth it.
Like it? Share it.
This post is part of my lenten series: 40 prayers for Russia's orphans.  Won't you join us in lifting up some of the most vulnerable children in our world today? 

*

Day 8
As we drove around Moscow going to various appointments or to visit Arie, John and I had a lot of time to talk with our facilitator and translator. She was such a wonderful woman, full of kindness and entirely capable. We asked her opinion on many things. Once, John asked her what happens to older orphans. We knew the statistics were grim (majority either turn to crime, prostitution, or suicide), but we wanted to know step-by-step what actually happened to them.

In Moscow at least, the children leave the orphanage "homes" when they are 17 or 18 years old and the government provides an apartment (to own, not just rent) and tuition for a college education. Mostly, she said, these young adults are encouraged to learn a trade.
When we heard this, our initial reaction was something like that's actually not too bad, but then our facilitator went on: the young men and women who have spent their whole lives in an orphanage are often unable to cope with the world once they leave. They've had meals prepared, clothes and school supplies bought, they've lived in community their entire lives, and they just don't have the skills to live alone. They become terribly lonely. The worst, she said, are holidays. When every other college student returns to Mom and Dad for New Years or summer holidays, these orphaned students have no one. Just think for a minute when you were in college or just starting out in the world. Think about how many times you called home, emailed, or visited your parents to ask for advice or just for a hot meal and come company. These young adults have no one.
Many of the young children in baby homes right now are the offspring of young men and women who grew up as orphans themselves. Having grown up without an example to follow, they simply do not know how to parent.
There are organizations that exist to help these young people not just survive but thrive. They provide mentorship, classes for life skills, and invaluable direction for those who don't know where to turn. We should remember to pray for them, especially now.
*
God who guides our every step,
Today we pray for the young men and women who have just left or are about to leave their orphanage homes. They are in deep need of your love and guidance. We pray you will provide for them in very practical ways.
Give them a safe place to live, food to eat, an education, and a way to be fulfilled in their work. We thank you that the government provides many of these things in Russia.
However, we know that it is not enough. We also pray that you will bring older and wiser people into their lives to provide wisdom and direction. We pray you will give them a community in which they experience real love. Give them a place to go for the holidays, someone to call for advice, and a loving hand to hold as they figure out how to make their way in the world.
Provide them with spiritual direction through your church. Bring them missionaries, clergy members, and believers to share your gospel truth. May they find unwavering peace and lifelong direction in your precious word.
As adoptions in Russia close, we pray that you will bless the people and organizations who help these older orphans with all that they need. Make them a blessing in their country.
We thank you for every good and perfect gift; we know they all come for you.
Be with these oldest orphans today, we pray in Jesus' name.
Amen.
___________________________
Jillian Burden and her husband John welcomed their son home from
Russia in November 2012. Follow their journey to adoption and
parenting joy at www.addingaburden.com.
Like it? Share it.
I'll never forget the day that one of our staff called the office. He was out visiting orphanages and monitoring our Formula Project with another colleague, and had just arrived at a newer orphanage we had only recently begun working with. He called because there was a baby who needed help.
This is always how the story begins. There's a baby who needs our help. And sometimes, sometimes we can't say "yes" because we don't have a bed available. Often we have to slowly set down the phone, saying a desperate prayer for the little one that may not make it. The decisions that directors, have to make every sing day can be gut-wrenching and painful. The need is too great, and we are only a small community of Chinese and foreigners working together to save them one at a time.
In each of the hearts of the staff at New Day Foster Home, there is a deep burden for the orphan. We've seen their faces, cradled them in our arms and cried tears of sadness and tears of joy as they've been through and overcome trial after trial.
We are doing something very special, and something very big. Here's the goal: Raise $12,000 in 12 days for New Day's Acute Care Fund. The Acute Care fund is what's used when Lydia needs to be admitted into the hospital with pneumonia, for when Ella's in PICU in respiratory distress and for while Alea was waiting for months in the hospital for a liver transplant. This fund is so critical for an optimum-functioning NDFH, and it's getting a little bit too low.
Each day, starting on the 31st and ending on the 10th, we have been featuring a child who has benefited from the Acute Care Fund, or will benefit at some point, or just has a pretty amazing story that we want to share with you. We will have giveaways, sponsored by some very special supporters to NDFH, and we will tell the stories of children who's lives were changed by New Day. We've gotten to hear from the adoptive mama of Cora, a little one who's miracle made us gasp.
… and later we're going to hear from the mama of Levi, who was adopted recently and brightened our lives with his fighter's spirit.
We've had a lot of fun over the last 11 days of our efforts. At the end of the day tomorrow, we hope to announce that we raised even more money than we had thought, money that will help save a lot of lives.

Want to join in at the last minute here? Head on over to the NDFH blog and see the glory of miracles for yourself!
________________________________________
When Hannah traveled to China in 2002 with her parents to adopt her sister Elisabeth, she fell in love with the country and people. In 2004, when her other sister Naomi was adopted, she started dreaming of going back. It took 5 years for that dream to come true. She now serves in a foster home for special needs orphans in China. Hannah spends her days studying, writing for the foster home and on her personal blog, Loving Dangerously, and most importantly, holding babies. Hannah loves the adventure of living overseas with her family. It's not always easy, but it's always worth it.
Like it? Share it.
Below is the lyrics to "Where I Belong" by Building 429…my new mantra…
Sometimes it feels like I'm watching from the outside
Sometimes it feels like I'm breathing but am I alive
I won't keep searching for answers that aren't here to find
All I know is I'm not home yet
This is not where I belong
Take this world and give me Jesus
This is not where I belong
So when the walls come falling down on me
And when I'm lost in the current of a raging sea
I have this blessed assurance holding me.
All I know is I'm not home yet
This is not where I belong
Take this world and give me Jesus
This is not where I belong
When the earth shakes I wanna be found in You
When the lights fade I wanna be found in You
All I know is I'm not home yet
This is not where I belong
Take this world and give me Jesus
This is not where I belong
[x2]
Where I belong, where I belong
Where I belong, where I belong
Friends . . . I keep saying international adoption (or just adoption in general) is not for the weak. However, I am beginning to understand that it is actually indeed for the weak . . . those who are so emotionally spent that they almost have nothing left give, those that are so sleep deprived that they can't remember what their pillow looks like, those that are physically strained and with compromised immune systems, those that wonder why they did this to their family and to the one they adopted, those that are poured out and completely used up. This is what an adoptive parent looks like in the beginning stages. And the only way I can be a parent is to lean on my Father in heaven who adopted me and knows exactly what I  am going through. The only way I can parent well is to be emptied out of myself and filled up with the Spirit that groans on my behalf to the Father. When I reach my end and finally let go of my books, my workshops, my blogs, my yahoo support groups, my professionals, my doctors, my well intentioned family and friends and I just fall on my face before my Savior and Lord . . . then I can truly be the parent God created me to be (even when I doubt that is possible.) Now please understand, I'm not giving up on my books, blogs, yahoo support groups, professionals, doctors, friends and family they are all vital to the success of my family, HOWEVER, I need to be interacting with all these things while looking straight in the face of Jesus. When I take my eyes off him, all these wonderful resources are ineffective at best.
My friends, I have been poured out and spilled all over the floor. Hard days are these indeed. I have one child who has no concepts of parents and family, who is just trying to figure out if she will be given away again and lives in fear and sorrow. I have another who very clearly understands the concepts of parents and family and feels that hers have been hijacked and violently reacts to mundane things in her grief. I have yet another who is so compassionate that he wrongly puts all the needs of everyone above his own as if he were the parent and loses his childhood and so much joy in the process. Hard times. Hard to watch, hard to parent, hard not to condemn myself as being responsible for their pain. I was trying to take credit for their pain recently saying, "I did this to them all. I hurt Eden and Noah by bringing in this new child. I hurt Yaya by taking her away from all she knew. I have wrecked our peaceful wonderful family and injured and innocent bystander in the process. A bystander that didn't ask to be adopted and ripped from all she knew. . ." You get the idea, and can see how this line of thinking goes now where but bad, really bad. And one night as my sweet Eden raged on and begged me to leave her room and leave her alone, I dragged myself out of her room and into the guest room. I fell on the bed in a choking, sobbing, heap, moaning; "Lord I CAN NOT do this anymore! I can't do this." And just like Jesus, he responded, "I know. But I can. And I have been trying to "do this" but you won't let me. And for the record, I DID THIS, my sweet child. I did all of this, not you. I know what I am doing with precious Eden, courageous Noah and sweet Yaya. And I know what I'm doing with Eric and I know what I'm doing with you. Lay it all down dear one, give it back to me and let me parent through you. It will get better I promise, and my promises are true. Do you not remember them? Yaya's life verse is one of my better promises…plans to prosper you and not to harm you, give you a future and a hope…"
Deep inhale . . . yes, Jesus. I remember. Deep inhale. Take this world and give me Jesus. And it is better, not perfect but better. And I am not so foolish as to think it won't get worse or that I am spared from suffering. But I am no longer parenting out of my own power and God has been so faithful to send several people to help us on this journey…friends, family, doctors, therapists, even total strangers. In my weakness I am strong. Adoption is only for the weak who are made strong in Jesus. Praise you my dear El Shaddai!
______________________________________________________________________________________________________________________________
I am the daughter of a King, "the" King, and on most days I don't come close to being worthy of that title, but each day I try to live into it. God has blessed my life with an amazing husband who is my best friend and makes me laugh like no one else. He is an incredible father of three wonderful children. Two, he and I came up with together, and the third God recently "made in China" and we got to go pick her up this past May 2012. My 8-year-old son has a heart of pure gold; I have never seen so much innocence and compassion reside in one person in my life. He is a man after God's own heart. My 3-year-old daughter is my joy. She is hilarious and spirited; a smile is always on my face when I think of her. My 2.5 year old daughter is kind hearted and brilliant, her capacity for learning and joy that we have seen in just 6 months of knowing her is unbelievable. I am also an advocate for Compassion International and we sponsor 4 children that I consider as dear as my own. So I suppose I'm a Mother to 7 children…no wonder I'm exhausted! God is so good to me I can hardly stand it.  You can follow Angie's blog at Just the 5 of Us Now.
Like it? Share it.
Large baskets by the roadside, dusty corners… dark alleys. My eyes are always peering intently into those forsaken locations, wondering if today is the day that I'll hear a kitten's cry and it won't be a kitten. It will be a baby.
I don't want to find a baby, and yet I do. I'd like to stay in denial that babies actually don't get abandoned. I'd rather believe that they ONLY suffer in institutions, thrive in families, survive in foster homes and blossom in foster families. This would be so much easier to believe… if only it was the truth.
It's a stereotypical "awkward" question from children, "Where do babies come from?" They ask because they want to know. I don't ask where the orphan in my arms or in that bed came from because I do not want to know. And yet… I do so very want to know.
She was abandoned in a field… he was at the foot of a bridge… the local village, a hospital, the orphanage gate…. At the foot of a mountain….
…by the railroad tracks. That's the one that gets me the most. Who abandons their baby by the railroad tracks? The hospital – I get that! A poor woman has just given birth to what should be a healthy son but instead it's a weak baby girl who's struggling for breath, looking quite blue and has a heart defect according to the doctor that would cost the family more than they could ever afford.
The culture here allows for borrowing and lending. I recently heard about a family who, when they discovered that their child was quite sick, spent every fen they owned. Then, as they cared for their child in the hospital, relatives went amongst one another, borrowing money. In the end, the child died. As the parents recover and grieve the loss of their one child, these sacrificial, unconditional-loving parents must work their fingers to the bone to repay their relatives.
A sick baby is born to a poor family. This is their reality, their situation and, ultimately, their choice. High-quality care costs a literal fortune and you must pay up front.
How high is life valued? I think that I can see an important yet devastating chapter to each little orphan's story just by hearing about where they were abandoned. The girl abandoned at the hospital was meant to live. The boy abandoned in the town square was meant to be found. The baby in the flower bed was to know that she's always been cherished… and hopefully will be found by one who loves. The little boy abandoned at the foot of a mountain was meant to be forgotten. The little guy by the railroad tracks… he was gotten rid of.
I want to throw up just typing it. A vibrant, healthy, living child was never intended to be found, to be loved… to be wanted. Of course I could be reading into the story a little bit or a lot, but in reality… he's not a "perfect" baby and those imperfections could have been seen as negating his value as a human being.
I don't know why I look for the babies. I think that maybe it's because I have to prove that this sort of loss and pain exists in the world. But why? Why must something so awful be confirmed? This I don't know. Could it be that God's heart is for the fatherless and His eyes are on the little ones at the orphanage gate and in the flower bed and that His passion is to bring children to himself? When I look into the eyes of the children here, I see Him. I see Jesus, because in many cases… His love and care is all that they have to live on.
How much realer and truer is this for the one who hasn't been found yet? What about the baby who was just given up, who has spent her first night in the cold without arms to keep her warm and a voice to keep her comforted? She has nothing, and if she had anything at all, it's quickly escaping to leave room for the cold hard facts of the cold hard world.
But she has Jesus. That's what I want to see; that is what I see.
I'm not looking for babies, I'm looking for Jesus. I'm looking for His love and His provision; for His peace and for His grace. I know that He has His eye out for each tender cry and delicate life.
I hope that I never stumble upon a bundled up child left by the roadside, hidden in a basket or at the public gate, but I do hope that I see Jesus in the eyes of every empty heart.
________________________________________
When Hannah traveled to China in 2002 with her parents to adopt her sister Elisabeth, she fell in love with the country and people. In 2004, when her other sister Naomi was adopted, she started dreaming of going back. It took 5 years for that dream to come true. She now serves in a foster home for special needs orphans in China. Hannah spends her days studying, writing for the foster home and on her personal blog, Loving Dangerously, and most importantly, holding babies. Hannah loves the adventure of living overseas with her family. It's not always easy, but it's always worth it.
Like it? Share it.
As I was standing during worship at my church in Orlando this past Sunday, out of nowhere God brought up Russia on my mind. It caught me by surprise that God brought this particular thought into my head. God does that, catches us by surprise. Now for those who don't know me very well you must know that I think about Russia all the time. Oftentimes I wake up in the morning just simply missing Russia. I really do miss Russia every day of my life. This is not to say that I hate living in America. I love America. It is where my family is, my home, my friends. I love going to college in Florida, baking in the sun at the beach in the months when everyone else is already getting out their winter clothes. I wish I could combine the best of both worlds; Russian culture and the American family and climate. One must always make sacrifices. Recently missing Russia and talk of Russia has been incessant due to the fact this is my last year in college and I must decide where my future must head. The constant question of, "do you know what you are going to do after you graduate?" is engrained in my brain. I almost can predict when the people will ask the question before it comes out of their mouths. I get excited and at the same time sad answering the question. "I'm moving to Russia," is my initial response. Then comes the question, "What are you going to do there?" This is where I hesitate….What am I going to do in Russia?!
It didn't take me by surprise that God brought Russia on my mind this past Sunday, but it did surprise me that he brought up orphans and adoption. Even from a young age I knew I would go back to Russia and that God would use me to minister to orphans, but as I got older, my desire still stayed the same– minister and help orphans. However, college changed my perspective. What am I going to do ministering to orphans when I'm graduating with a double major (Russian Studies and Environmental Science)? Was the time spent in college working so hard going to go to waste? Did I choose the wrong majors? I could make a very good living through in either of those areas. I'm going to need money to live on. I can't do ministry work in Russia; I need to find a real job.
Oftentimes, I go into thinking in this way. I imagine myself being a very successful government official or businesswoman. I see myself changing the world in some grandiose way. I desire those things; however, then I see someone in need and my heart just breaks. I know there is nothing wrong with wanting to be successful or making a lot of money, but it all comes down what is most important in this world to me! Money comes and goes, experiences come and go, troubles and happy times come and go, but people live on. Whatever I do in my life, I want to help people better their lives. I want to see them succeed and be happy and satisfied with life. I want to help orphans because I was one once and knowing this I know there is hope and there is life after you have been abandoned and rejected by those people who gave you birth.
Over the years my very good friend, my mother, and I have been making a quite interesting observation. We have been surrounded by many adopted children most of them coming from Russia, who have been placed in wholesome, loving, caring families. The adopted children have every basic need satisfied in their lives plus more, for these new parents provide them with overwhelming love and care. We have seen these adopted children grow up and live their lives like they grew up in a home without love, care, protection and parents. The decisions they make are harmful to their lives. Oftentimes, they begin to use drugs or alcohol, get into rebellion–and the list goes on. I look at those children and without judgment and wonder, "Why is this so?" I know these families well enough to know that they have poured nothing but love into their adopted children.
I can testify to this happening not only as someone looking from the outside but also as someone who has personal experience. In my own family, we have had many such experiences. My own adopted siblings have sometimes chosen paths of destruction and hurt. I have watched for months, which later turned into years as my parents did everything humanly possible. Some situations got so bad that only God could do anything, because it was humanly impossible to do anything else. I don't know how it feels to be a parent of a struggling child, but I know how it feels to have someone of your own blood be in a painful place and feel so helpless.
And I began to entertain the idea, could it be that love is simply not enough to dramatically change the adopted children's lives? Could it be that God isn't enough to change their deeply hurt hearts? I don't entertain that idea for too long, because if God isn't enough to change these hurt hearts, then there is no hope for orphans. God has to be enough and is enough to make a difference in the heart of the orphan. All I pray is that God will use me to do just that.
______________________________________________________________
Kristina,  a 22 year old college senior majoring in Russian Studies and Environmental Studies, is one of 7 children, 4 adopted and 3 biological.  Kristina was adopted when she was 10 years old from Russia. She has experienced the redemptive work of God in her life and has a calling to minister to children and a deep desire from God to have an impact in the very country that was the source of so much pain. She occasionally writes for the Hope at Home blog.
Like it? Share it.
How can I describe him? Who can I give words to describe the 4-year-old boy who has changed my life?
Going to China this past summer opened my eyes as I got to see how these orphans live everyday. It opened my eyes to see what life could have been like for me. You see, 15 years ago, I lived in an orphanage in Anhui Provence, China. I lived in a building full of children like me; and we all lived alone. No parents, no families, needs barely met if at all. Sometimes I still wonder all these years later, what brought my birth parents to that place of abandoning their baby–me. I was only 1 day old when it happened; knowing I was unwanted and abandoned is an indescribable feeling. For 13 months of my life, I lived that way–unwanted and alone.
Now, I'm 15 and living in south Mississippi with the most loving and caring family. My life is filled with blessed relationships and I have the joy of riding my horse and singing and playing guitar at our church. And, I love God. With the blessing and support of my parents, He has led me back to orphans in China.
As I volunteered with Bring Me Hope this past summer, He led me to one particular orphan–Wayne, a little man from ZhengZhou. Unlike many of the orphans who come to these camps who are never made paper ready for adoption, Wayne is now available for adoption. He's looking for a forever family just like I was. And, I believe I've been called to help him find it.
I will try to make words bring him to life for you (in case this video doesn't do it). He LOVES to laugh and smile, and he is good at it too! During the camp, he was a social butterfly. I taught little Wayne how to peel off stickers, stick his tongue out, and even say "I love you" in English. He would run off to other people at camp giving out wet kisses and then would run to me with the biggest smile wanting another kiss.
Wayne has overcome so much already. His paperwork lists two special needs–mild retardation and hemiparesis. But, I can tell you from spending those 5 days with him, he is a very smart and capable little boy. His mind was so ready to learn and experience new things. In fact, he was always out smarting me! Wayne could do anything he set his mind to, priding himself on putting his sandals by himself and bathing himself in the shower. On Tuesday morning, we stepped into the elevator to head out for lunch, and he was just barely able to reach the button for the 1st floor. On Thursday, two days later, he was ready for it and managed to get up on those tippy toes and push that button! And he was so proud of him self for doing that! His left side of his body is weaker than the right. But, he can run and walk with only the slightest limp. His left-side weakness didn't stop him from chasing the other kids around at camp or walking several blocks to a meal.
15 years ago, one family stepped out of their comfort zone to follow God's call and adopt a baby who needed a family. Now, I'm praying that another family does the same thing for Wayne and that somehow God would use my voice to help make that happen.
____________________________
Currently, Wayne is on the shared list, available for adoption for any family using any agency working in China. If you want to learn more about him or how to find him on the list, please email Laura at laura.m.knoll@gmail.com. She will gladly talk to you about Wayne.
____________________________
Hi my name is Laura, and I am 15 years old. I live in good ole south Mississippi. I was adopted from China as a 13 month old, and God has allowed me to bloom and grow with my two younger siblings and parents. I accepted his call to go back to China in the summer of 2012 with Bring Me Hope and was able to meet kids and other volunteers who changed my life. I ride horses everyday and sing in our local churches for His glory. God is the only reason I am where I am today, and I am so very thankful!
Like it? Share it.
Three years ago, my husband and I stood in front of the orphanage in Beijing, China, and promised we'd be back. We knew it was full of children who were dying, who went to bed hungry every night, and cried for someone, anyone to love them.
We'd always wanted four. It seemed logical: two boys and two girls. Everyone would have a best-friend for life. And Evie would know the bond of a sister from her birth country.
It sounded beautiful. And we honestly thought that was where God was leading us. He had given us Evie. He had shown us over and over that Evie was our daughter. We had prayed for months, "Bring her home. Bring her home. Bring her home."
And then we landed in Chicago. And discovered Evie's undisclosed special need– developmental delays. Not only did she have tetrology of fallot and cleft lip and palate, but she could hardly sit, stand, walk, talk, chew, turn the pages of a book. She was completely and utterly shutdown.
We saw hints of this in China. But we assumed she would wake up and start acting like a two year old. But she never did.
So my new life–the one with only 3 three kids–consisted of juggling them so we could go to PT, OT, developmental therapy, and speech multiple times a week. Plus, all her other doctor visits.
I was exhausted. And that fourth child seemed further and further away. And the guilt of ignoring my two homegrown kids weighed heavily on me.
As time passed, I got into the rhythm of my new normal. And now three years later, things seem almost under control.
But, still, we won't be adopting again.
Evie needs too much. She is too traumatized, too emotionally fragile, too needy. The honest, bitter truth is another special needs adoption would take too much of my time away from her. There is only so much of me to go around.
We've prayed about this. We've agonized about this. Because we know there are kids who need parents who love them. We know there are kids going to bed tonight with empty bellies, who are cold, alone, and afraid. We know, because that was Evie three short years ago. She was starving–not only for nourishment, but for human touch.
We aren't done with adoption. We just aren't adopting.
So now we are praying, "Use us. Use us. Use us."
And I wonder, how God will use us to care for the orphaned.
 ___________________________________
I am a Christ-follower, wife, mother, and writer. I have two wonderful boys and a princess from China. We became a family of five on August 28, 2009. My new book, One Thousand and One Tears
, is now available on Amazon.
Like it? Share it.
1520 BC
I see her, a tall Hebrew woman, struggling to stand. Nestled inside her body is the weight of a child, ready to arrive. Her mind is troubled. Restless nights after sleepless nights are confirmed in the dark circles underneath her eyes. The husband seems distressed too, his hands shaking. Working as a slave, forming bricks, he begs God. Tears fill their eyes, as husband and wife, apart yet together in their anxious worry, entreat the God of Abraham, Isaac and Jacob…
…for a daughter.
The pain is still fresh and pulsing through her body. A life, pink and screaming, placed into her arms overwhelms her heart. She turns her head from the apprehensive face of the midwife. I will love my child for one, simple and pure moment, before you tell me.
She closes her eyes, pulling the new life close, refusing to let anyone stay. Soon, only the proud parents are left. Their eyes meet. Their tears mingle as they gaze upon their son. We will keep him for as long as we can. The father lays a soft kiss on his son's head, his wife's hand grips his tight. Fear fills their eyes as soldiers walk down the road.
The next three months are hard. Torturous. Hiding a child is hard. Loving a son who doesn't exist is almost impossible. Eventually they must talk. It can't go on like this.
I thought that our God would save him. I believed that he could remain ours. Why did He give us a son to love, just to tear him away from us? Just to rip my heart apart?
Trembling, she bathes him one last time. Nourishes him from herself, savoring the closeness. Then, tenderly placing him in the center of the large basket, she can't hold back the tears. Mama, why are you crying? A gentle voice calls up to her; her daughter, a blessing.
She almost turns back many times on the walk to the river. Baby sleeps soundly. Mother's heart continues to crumble.
But there is truth in what her husband said. And there is truth in the choice that her family has finally convinced her of.
Home was no place for their son.
And so, trusting in the Hand that created the gentle waves, she lets it go. She lets him go. A basket drifts down the river; a baby drifts off to sleep. Her eyes burn as they follow the basket's every rise and every fall.
It was his only chance.
Does this sound familiar? The pain… the choice… the heartbreak…? Then it was boys; today, girls. It's not just one country's laws or a society's ancient culture. It's a world of sin – painful sin- that costs family's their children and children their lives.
How much longer until the cry of the orphan will be no more?
But wait.
Wait just one minute. The story above is obviously (if you know your Exodus) about Moses, the baby boy who was "rescued from the waters." And Moses grew. He was adopted by the Pharaoh and became great. He was called by his God and he became a messenger. Moses was abandoned, adopted, rejected and restored. Miracles were preformed in his life and through his life. Lives were saved.
Beauty from ashes.
The cry of the orphan is an awful sound, but it does not mourn forever because there is a great Comforter. Adoption, restoration, redemption and hope overcome the pain and sorrow of this world.
River, Oh river
Flow gently for me
Such precious cargo you bear
Do you know somewhere
He can live free?
River, deliver him there
________________________________________
When Hannah traveled to China in 2002 with her parents to adopt her sister Elisabeth, she fell in love with the country and people. In 2004, when her other sister Naomi was adopted, she started dreaming of going back. It took 5 years for that dream to come true. She now serves in a foster home for special needs orphans in China. Hannah spends her days studying, writing for the foster home and on her personal blog, Loving Dangerously, and most importantly, holding babies. Hannah loves the adventure of living overseas with her family. It's not always easy, but it's always worth it.
Like it? Share it.