As we sat around my house earlier this month celebrating Mother's Day (my 8th, whoa!) with family, I took a moment to meditate on the blessing of motherhood.  Sometimes I cannot believe that God trusts me to raise these three precious beings whom I have the privilege of calling "mine."  All three of them are so special and unique, and I love each of them in different ways for the little people they are.  They all bring such joy to my life.  Angel is my little "mama in the making," exploding with such compassion and love.  Lovebug is my court jester, with a heart of gold that he uses to love and feel so deeply.  And Sunshine is my fierce warrior, so strong and courageous, overflowing with love and hope.  I see Jesus working through their young lives all the time.  I am a better person because of them and my faith has been strengthened because of what they've shown me about unconditional love, grace, and life.  I celebrate how much more my children have given me than I could ever possibly give to them.
While thinking about this on Mother's Day, I couldn't help but notice something God-breathed and simply beautiful.  It was the way Sunshine was so comfortably a part of everything, as if she had just always been.  She was happily climbing all over my dad as any grandchild would do.  She was interacting with her 93-year-old great-grandma in a way that no one else could.  She ran to each of her grandparents effortlessly, squealing their names with delight.  She played with and chased around her brother and sister as any sibling would.  She wrapped her little arms around her daddy's neck so sweetly as he carried her around.  And she laid with me on the sofa with such trust and security and love, as if I had always been her mama.  It was the way it's supposed to be.  It was breathtaking.
Almost two years ago, we brought her home to us forever.  At the six-month mark, I thought things were good.  At the one-year mark, I thought things were great.  But almost two years home, oh my it just keeps getting better and better.  The love that I have in my heart for this precious child has grown so big, it's overwhelming at times.  It definitely had to grow and be nurtured, but it's very real and it is fierce.  She is mine and that is amazing.  This plan that God has for Sunshine and for our family is pretty awesome.  And watching it unfold right before my eyes is truly remarkable.
 ______________________________
Nicole is a child of God and a wife to an amazing man.  She is a classical homeschooling mama to three (two homegrown, one who came to them through the beautiful gift of international adoption).  She is also a part-time newborn photographer, founder and adoption photographer at Red Thread Sessions, a contributing blogger at No Hands But Ours and an advocate of orphan care and adoption. She loves to blog and learn new things.  She strives to live her life to glorify our Heavenly Father. With His love, all things are possible.
Like it? Share it.
I've been meaning to write this for a couple weeks, but we're in the midst of a really tough season with the older kids. It's nothing we didn't expect or that's not normal, but it's kept us busy and exhausted nonetheless. It's also made these words even more appreciated than they were when I meant to blog them.
Ty's current favorite song is One Thing Remains. We've been listening to it a lot at home and singing it a lot at church.
The chorus echoes these words again and again…
Your love never fails it never gives up it never runs out on me.
Imagine if you believed the opposite in your core–that love always fails, and it has given up and run out on you. That is what our kids from hard places believe. Their behavior reflects their insecurity because their brain dictates survival and not logic. Traditional consequences are not just ineffective but damaging. Nonsensical arguments and hurtful words reign. Behavior is meant to push you away but also screams, "PLEASE!! Don't leave me like everyone else."
It will probably take years of love and consistency to change their paradigm. My head knows this, but my heart is frustrated at the ridiculousness that defines my day-to-day life. My flesh wants to give them what their words are asking for, but my heart is begging for the grace to give them what they need.
Enter song #2. Take My Life. Here are the lyrics that need to define my life if we're all going to emerge on the other side.
Here am I, all of me.
Take my life, it's all for Thee.

Take my will and make it Thine
It shall be no longer mine.
My new motto: If you thought marriage was sanctifying, try adoption.
________________________________
Melissa, who was adopted from Korea as an infant, have two biological children, a son adopted at age 2 1/2 from Korea, and 3 big kids from Ethiopia (adopted at 12 to 14 years of age). She resides in Maryland where they started a ministry called The Grafted. The Grafted exists to help the local Body of Christ connect to information, resources, and organizations in order to develop a compassionate culture that cares for orphans, vulnerable children, and widows. Melissa also has a photography business that specializes in adoption homecoming and foster family photography. You can get to know Melissa better on her personal blog.
Like it? Share it.
I am so tired of waiting for joy.
I am so tired of saying that life will be great when ______.
When I meet my husband.
When I finish school.
When we have children.
When Amelia gets home.
When our finances change. (not that we lack!)
When my schedule clears.
When my work situation is different.
When this.
When that.
When
when
when
when
THIS is the life I am living. Here and now. And it is a gift from a God who loves me more than my tiny brain can fathom. A gift so big, I can only unwrap it in tiny layers, and I haven't even begun to see a drop of this Life's glory. (Because He is the Life.) Do I think I deserve something better than the oceans of grace He has flooded onto my life?
I AM TIRED OF WAITING.
I am DONE waiting for joy.
I remember when we were waiting for Amelia, God began to whisper to my heart that I wasn't REALLY waiting for Amelia. He whispered this to my heart: "You are waiting to see ME." Yes. I see now that I was! And wow… how He is now showing Himself to my open, starving, begging-for-more-of-Him heart.
I thought we would see God most in the wait. In the trial. But oh, thank You God! The real miracles in this heart of stone I carry have begun in the days since we got home. God is going to change me. I know He is. He wants to show Himself to me. To us. To whomever is hungry for the Only True Joy.
I will leave you with an incredible quote from the book I am currently obsessed with. I now think this: During the painful darkness of our adoption wait, I was in the cleft of the rock, being shielded from God's consuming glory by His covering hand. But now… oh chilling miracle… He has lifted His hand so I can look upon the back of a Holy God passing by.
Wasn't that too His way with Moses? "When my glory passes by, I will put you in a cleft in the rock and cover you with my hand until I have passed by. Then I will remove my hand and you will see my back" (Exodus 33:22-23 NIV)
Is that it? When it gets dark, it's only because God has tucked me in a cleft of the rock an covered me, protected, with His hand? In the pitch, I feel like I'm falling, sense the bridge giving way, God long absent. In the dark, the bridge and my world shakes, cracking dreams. But maybe this is the true reality: It is in the dark that God is passing by. The bridge and our lives shake not because God has abandoned, but the exact opposite: God is passing by. God is in the tremors. Dark is the holiest ground, the glory passing by. In the blackest, God is closest, at work, forging His perfect and right will. Though it is black and we can't see and our world seems to be free-falling and we feel utterly alone, Christ is most present to us, I-beam supporting an earthquake. Then He will remove His hand. Then we will look.
Then we will look back and see His back.
Yes, God. Help us look back and see YOU.
____________________________
Rachel has been married to her husband Brad for 5 years. They have a 3 year old named Caroline and a 1 year old named Amelia, whom they recently brought home from Uganda. God has used Amelia and adoption to show His love and glory to the Goode family. You can follow their story on their blog.
Like it? Share it.
It was this week 2 years ago that we learned of major changes in the Ethiopia program. We learned that the process was going to slow down and that there could potentially be a waiting time of "years". We had already been in the process for 9 months (with paperwork and home study), on the waitlist for 3 of those months, and I can remember the way I felt like it was yesterday. We were devastated  I couldn't quit crying. I was asking "why?" more than I would like to admit and I was angry. We had already "wasted" so much of our time and money trying to get pregnant again. Then God called us to adopt and guess what? We were excited about it. We gave up our dream of more biological children and accepted God's plan for us to adopt. So why in the world was He allowing this to happen? This delay, this heartache, this series of unknown events….why? And on top of that, what were we going to do? How could we wait for years? Were we on the wrong path? Was our child somewhere else?
Devastated and confused.
(You can read some of the posts I wrote around that time  HERE)
But you want to know what else I remember about that time? I remember how so many of you rallied around us. You prayed with us and for us. You signed a petition. You wrote me notes of encouragement. You loved us well.
I also remember my God who loved us well. My God who calmed me down and reminded me that He was/is in control. My God who assured us multiple times that we were on the right path and that our child is indeed in Ethiopia. My God who has continually met our needs from day to day and given us the strength to endure. My God who has helped us to find joy and purpose in this wait.
Obviously we are still waiting. 2 years and 9 months since we started this process (2 years and 3 months on the waitlist) and still no baby. And we are still more than ready. And we are still tired. And we are still longing. But there is one thing we are not still doing. We are not asking "why?" anymore.
And not because we fully know the answer to the question "Why?" We may never fully know until we meet our Savior face to face. But that unrest that used to be in my heart is not there.
Oh, I still get frustrated. And I even still get angry sometimes. And every single day I tear up and long for our child. Then there are the times that I wrestle with God over the wait and the time frames, over my desire to be in control.
But when it comes to the overall journey that we are on, in some way, I really think I have peace.
You know in scripture when it talks about "a peace that passeth all understanding" (Philippians 4:7)? Well, that's the one. I think I've got it.
Not every moment of every day. But it's there. And in the times when I'm struggling for control, when I'm frustrated over the passing time, the Holy Spirit really and truly fills me with that peace. And He reminds me that there has already been great purpose in this journey, and that the best is yet to come.
And I believe that. I believe that the best is coming. Even if hard is mingled with the good. I believe God has his best in store for us. And I can't wait to see it!
One day when this child is home and when he/she is old enough to ask me "Why? Why did you wait?", I know some things that I can tell him/her for sure.
Why?
Because God's will is more powerful than my own.
Because my heart needed work and my Heavenly Father was gracious enough to take the time to do a major work in me.
Because God wanted to open my eyes (and your daddy's and Hayes') to the orphan crisis and He wanted us to know that life is not about us.
Because God the Father wanted me to know God the Son in a deeper, more intimate way.
Because there is a power in prayer that I wasn't experiencing because until YOU I really hadn't been on my knees, not really.
Because I needed to cling to Jesus and not let go.
Because God wanted us to experience the JOY that comes through pain.
Because God wanted me to learn how to love others and He did that by sending others to love us well.
Because my entire view of life, of others, and of this world needed to change.
Because God wanted us to let go of our plans and embrace His.
Because He had created YOU for our family since the beginning of time and he was weaving our stories together.
Because you are mine.
Because you are worth it.
You were worth every tear, every delay, every minute of the wait. You. Were. Worth. It.
And one day when I am telling our child these things I will know the answer to the biggest question I have right now.
When?
Because, at this moment in time, that is my biggest struggle. That's what I wrestle with now. Wondering when.
And to tell you the truth, I think it's time!
Praying that the Lord moves mountains in Ethiopia, that he changes hearts of leaders (all over the world), that he removes bars of iron (Isaiah 45), that he knocks down gates and opens doors, that he provides paperwork and sets our child and many others FREE. And that through it all, the world will see that HE alone is God and that He alone deserves all the glory, honor and praise.
Pray with me??
Meg and her husband, Shaun, have been married for almost 10 years and have one biological son, Hayes, who is 5. For the past several years, God has taken Meg and Shaun on a journey through infertility and He has used that journey to open their hearts to adoption. In June of 2010 they began the process to adopt their next child from Ethiopia and to this day they are still waiting expectantly. You can follow their adoption story on Meg's blog, "Go and Tell".
Like it? Share it.
The day after Mother's Day. That's today. But, we're just going to call it the new Cyber Monday because you all have some shopping to do.
I met Kelly a year and a half ago over coffee in her living room. A mutual friend who knew that we shared the desire to serve children and families joined through adoption set us up on a "blind date." As the sister to an adopted brother and with the hope of being an adoptive mom myself one day, I knew how important The Sparrow Fund's resources were for families as Kelly explained what they did. I thought I knew— but to see has been another story.
I joined in the work, volunteering, helping wherever I could. With The Sparrow Fund, I've attended trainings, conferences, and retreats—what an amazing and challenging learning experience for me. I have been overwhelmed with how intentional, loving, devoted, and honest the adoption community is. Sorting through adoption issues can be difficult, messy, and exhausting. The Sparrow Fund does an extraordinary job of creating s p a c e for this community—space for adoptive families to come and be blessed through relational, emotional, spiritual, and financial support; space to be encouraged by each other's experiences, informed by adoptees' stories, and educated by professionals in the field. The brokenness that comes with adoption is just as welcome as the joy. It has been such a blessing to watch this space be filled over and over again.
The Sparrow Fund is doing excellent work. More than excellent, though, it is needed. There are few training and retreat opportunities like the ones that The Sparrow Fund offers. And, I can tell you from experience that they are such encouraging, life-giving times for adoptive parents. In addition, The Sparrow Fund awarded grants for preadoption counseling and ongoing support to 18 families this past year alone, ensuring as smooth an adoption process as possible. Those 18 grants played a part in 24 children being brought into their families as sons and daughters, brothers and sisters.
We need you to help create more space for support and encouragement for children and families—which is where the new Cyber Monday comes in. About 50 businesses selling guitar equipment to children's books to jewelry to skincare have committed to celebrating adoption and honoring the work of The Sparrow Fund by donating 10% of their total May sales. All you have to do is shop to grow that 10%. Click HERE or on the page in the menu bar on this site, and start shopping!
_______________________________
Abbey Leaman recently married her high school sweetheart of 10 years. She works in admissions at a private school in the Philadelphia area and volunteers for The Sparrow Fund in (most of) her spare time. She loves spending time with family and friends, gardening, cooking, and traveling. She and her husband have dreams of adopting in the future.
Like it? Share it.
"Go around and introduce your child and then say I love him or her because ____________."
That was the ice breaker, and I had about 30 seconds until I was up.
This is David, and I love him because he's really smart.

This is Emily, and I love her because she's so kind and caring.
I'm up. And, I played along.
This is Drew, and I love him because he's so silly and funny. And, this is Ashlyn, and I love her because she's so helpful all the time. And, this is Lydia, and I love her because she is mine.
Isn't that how I should have answered it for all of them?
I recognize my children need to be affirmed—probably because I recognize my own need to be affirmed. Words of affirmation are my love language.
But, what we were asked to do by filling in the blank had a fundamental flaw.
I don't love Drew because he's silly and funny. I don't love Ashlyn because she's helpful. I don't love Evan because he's sensitive and gentle. I don't love Lydia because of how she lights up a room. I don't.
I love them because they're mine, and I'm called to love them. God has given them to me; and, in so doing, He has given me the very significant calling to love them. Sometimes my calling as a mother is easy, and love overflows. Other times aren't as easy and I feel the internal resistance to continually pour myself out. Regardless, I'm still called to love—not because he's gentle, not because she's smart, not because he's funny, not because she's creative. It is really more about me than about them. I love; they are simply the receivers of that love.
If God humored us with joining our ice breaker, how would He fill in the blank?
This is Kelly, and I love her because she is mine.
If a million words of affirmation were spoken over me, 999,997 would be unneeded. She is mine. They're the only 3 words I really need.
But when the kindness and love of God our Savior appeared, he saved us, not because of righteous things we had done, but because of his mercy. Titus 3:4-5a
_______________________________
Forever changed by our experience of being adopted and adopting, Kelly is a stay-at-home mom/manager to 4 children and a professional juggler, juggling her calling as wife and mother with her secondary callings (editing and serving adoptive families through The Sparrow Fund). You can learn more about their adoption story, how they've been changed, and what life for them looks like on their personal blog, My Overthinking (where she's going to have some super sweet giveaways this month, by the way).
Like it? Share it.
Thinking about Adoption? Have you considered the Waiting Childl?
When my husband and I first started our adoption process, these children were referred to as Special Needs which can be a scary term.
But what if instead we called them "Waiting Children"? Doesn't sound as intimidating, right, and it is the truth as well! Furthermore, what if we thought of "Special Needs" kids as "special", amazing children in "need" of or waiting for a forever family? What if God had said, "oh, I don't want to save people with problems, only perfect people"? None of us are worthy of Him. We are all special cases in comparison to our great God. Praise God, that He, in His mercy, sent his only and perfect Son to die for all of us (John 3:16)!
When our caseworker mentioned this list as a possibility to us, we looked at each and said, "we don't think so", but God had other plans. He began to work in our hearts and brought people into our lives who had adopted children from China on the waiting child list and showed us that He had a completely different plan than we were thinking of for our adopted child. He showed us that we didn't need be scared of this special list of children but rather to see them as beautiful children created by their creator, perfect in His eyes, and waiting for us to adopt them! The truth of the matter is that many children on this list in China have things that can easily corrected in the United States such as cleft lip/palate or limb deformities. Of course, there are children on these lists with more severe issues, so pray about God's plan for your adoption and seek His will alone. Don't focus on the fact that you want a "healthy" child but rather on the child God has for you. Step out in faith, knowing that His plan is far greater than any you could ever imagine. Yes, there will rapids along the way, but He has promised to carry you through those times of trial and difficulty that are inevitable. He will be faithful. WE CAN TRUST HIM!! "Trust in the Lord with all your heart and do not lean on your own understand.  In all your ways acknowledge Him, and He will make your paths straight." (Prov. 3:5-6)
Meet Grace Lihua
Grace is a vivacious fun loving three year old who makes friends everywhere she goes. She was born on November 12, 2009 and joined our family in May of 2011. Grace has deformities in her fingers and toes. She is missing her big toe on her left foot and the middle toes on her right foot are fused together as one. Additionally, her right foot was a slight club foot. Her index finger on her left hand is not properly formed and two of her middle fingers on her right hand are short. We took her to a renowned pediatric hand surgeon at Scottish Rite in Dallas who did some work on her right hand to help with mobility and will do on a follow up surgery on each hand in a few years. We also went through a series of casts on her right foot/leg to work on stretching the muscles and helping the foot straighten.  While all this sounds complicated, God has walked with us every step of the way, and we are excited to watch His plans for her life unfold!
Meet Anthony Jianyou
Anthony is full of life and energy with a flair for the dramatic! He is extremely intelligent and is picking up English with incredible speed. He was born on September 23, 2004 and joined our family in January of 2013. Anthony has a deformity in his right arm and hand. He is missing the bones in his right thumb and the radius in his forearm shorter causing his arm to slightly curve in. Additionally, the muscles in his right arm are very weak. The same doctors who worked on Grace's hand will perform a surgery on his hand this coming September. They will be removing the limp thumb and moving his index finger to the location of the thumb so that he will have more mobility and ease when grabbing things with this hand. It is truly amazing! He is a little concerned about this surgery, but does want his hand to function better, so keep him in your prayers. We are excited to share with Him the incredible, unending, perfect love of God who created Him just as he is for a special purpose ordained by God.
Our greatest struggle will be dealing with our children's hurt feelings when other children ask them why their hands and feet are different. We know and will always communicate to them that God see them as perfect and beautiful, but that we live in a fallen world, so there will be questions and looks. Haven't we all experienced the cruelty of children at some point in our lives? Did any of us escape the teen years unscathed, without a hurt feeling stemming from ridicule by someone over something "wrong" with you? Of course, this will break our hearts, but we pray that we will use these opportunities to point our precious babies to the One who loves them more than any of us could imagine or fathom. 
My Children are BEAUTIFUL! See my post about this here.


"Your beauty should not come from outward adornment, such as elaborate hairstyles and the wearing of gold jewelry or fine clothes. Rather, it should be that of your inner self, the unfading beauty of a gentle and quiet spirit, which is of great worth in God's sight." (I Peter 3:3-4, NIV)
To quote Johnny Diaz, "More Beautiful You",
"There could never be a more beautiful you
Don't buy the lies, disguises and hoops, they make you jump through
You were made to fill a purpose that only you could do
So there could never be a more beautiful you."
 _____________________________________
After struggling with infertility for five years, God led Suzanne and her husband, Adam, to His Plan A for their lives, adoption! Their three year old daughter,Grace Lihua, came into their lives on May 8, 2011 (Mother's Day) from Fuzhou City, Fujian Province, China, and their eight year old son, Anthony Jianyou, joined their family on January 14, 2013 from Shanghai.  After a career in Politics, Suzanne is thankful for God's provision in their lives that now allows her to work part time as a Pilates Instructor while spending time with Grace and preparing for the home schooling of their boy. You can follow their adoption journey and life on their blog, Surpassing Greatness.
Like it? Share it.
This is a question I get asked a lot: How can I answer the biblical call to orphan care if I am not able to adopt?
God does not hide his will from us and if you are someone who has earnestly sought God's will concerning adoption and he has not led you to adopt (or has not led you to adopt right now), there are other very valuable ways that you can serve the most vulnerable children in our world today.  If you have a heart for orphan care—whether or not you are able to adopt—here are ten invitations to orphan care for you to pray over:
Original photo by flickr user Moving Mountains Trust, creative commons.
1. Host an orphan in your home: This is one of my favorite ways to get involved in orphan care without adopting. New Horizons is an international orphan hosting program. US families host children for 4-6 weeks in their homes and pour love into them. The children see what it is like to live in a family and have opportunities and they have their "horizons" broadened. The goal is not for the host family to adopt the child, although sometimes either the host family or family friends will go on to adopt after the experience. The goal is to show the child a life other than the one he knows and give hope for a better future. Please take a moment to sign up for the photo listings and ask yourself if you have 4-6 weeks to give to one of these children.
2. Get your church connected to an orphanage:  I found our about the organization The Hope Epidemic through an instagram hash tag of all ways (although I #cantrememberwhichone) and I am so impressed with what I've seen through them. Their mission is to connect American Evangelical Churches with orphanages all around the world. They want these churches to connect in order to share the gospel, to build relationships, to better the orphanage environments, and to advocate for the adoption of children in the orphanages. I've always wondered what it would look like if the church arose to take care of our orphan crisis once and for all. The Hope Epidemic is trying to do just that.
3. Donate on behalf of children with special needs: Reece's Rainbow is a Down Syndrome adoption ministry. You can look at pictures of waiting children with Down Syndrome or other special needs on this site donate to a specific child's adoption, whether or not a family has been found for them.

4. Support an orphan graduate program: There are a few different orphan graduate support programs out there but Hearts for Orphans caught my attention because it is run by adoptive parents and shares the gospel with orphan graduates. When orphans age out of the system most turn to crime, prostitution or suicide simply because they don't have any support systems or life skills. Orphan graduate programs work to equip teens with life skills, like cooking and budgeting, and help them find meaningful work. Hearts for Orphans works in the Ukraine. If you have a specific country on your heart, do a google search for "orphan graduate support" + "country." If you can't afford to donate to these ministries, consider volunteering for one in your area! Organizations like these always need volunteers to do tasks like photocopying, putting mailers together or even cleaning.

5. Advocate for a specific child: Project Hopeful is an organization that educates and advocates for the adoption of children with HIV and other special needs. Their FIG program (Family In the Gap) exists to match families with orphans overseas. As as a FIG family you would pray for, sponsor, and fundraise for the adoption of a specific child. You can also be matched with an unadoptable child (in their home country's foster care system) and you would support the foster family as they care for the child. This is such a cool program and I love how you can get your whole family involved. I can picture families with children working together to brainstorm fundraising ideas (summer lemonade stand??) to help with the child's someday adoption costs.
6. Help parents and families in crisis: Safe Families is a movement by Bethany Christian Services that serves families who need safe, temporary care for their children. From the website: "This network of host families help parents who need to temporarily place their children due to unmanageable or critical circumstances… this temporary care for children in need gives parents time to establish stability in their homes. Can you open your home to a family going through a troubled time?" There is a video on their site that's worth watching if this movement interests you at all.
 
7. Sponsor a child: Most of us are aware of these programs that help provide food, water, and education for children in developing countries. If you have a heart specifically for orphans, you can use Compassion International's search tool to find and sponsor a child who has been orphaned. You can also select country or special need if you desire. I've heard of families sponsoring children who share birth dates with little ones. Some couples honor the loss of a pregnancy by sponsoring a child who was born around the time of the expectant due date of the baby they lost. When you sponsor a child you have the opportunity to do more than just give money; you can correspond with the child, send gifts, and share the love of Christ with her!
8. Give to an adopting family: Whether you're able to write a $500 check or sell knit-wares online for cash, donating to a family who wants to adopt is a much needed and very fulfilling way to answer the call to orphan care. If you are wondering how much a $30 donation could help just take a look at my son and know that he didn't come home via a few enormous donations. He came home though a ton of small ones. Every.penny.matters. Also there are nonprofits like Lifesong and The Sparrow Fund who give grants to adoptive families if you want to give to them so that they can continue to serve adoptive families. If you have no money or wares to sell you can help by offering your services. Maybe they need babysitting or volunteers at a fundraiser. Maybe they need someone to mow their lawn because they just don't have time between working and completing the home study. If you look hard enough I know you can find a way to help!
9. Send care packages to orphanages: In the end of January, my church asks all the congregation members to use one Sunday for an act of service. This year our small group used the Sunday to put together a care package for Arie's former orphanage. If you know anyone who has adopted, consider sending a care package to their child's former baby home or foster home.
10. Support Antihuman trafficking efforts: Because orphans are so vulnerable and too often without protection, they are at increased risk of being trafficked.Take a minute to visit WAR International's website and view the video on their about page to learn more.
_______________________________
Don't forget about the easy way you can support adoption and care for orphans…through shopping. Go find some Mother's Day gifts for your mother…or yourself…HERE.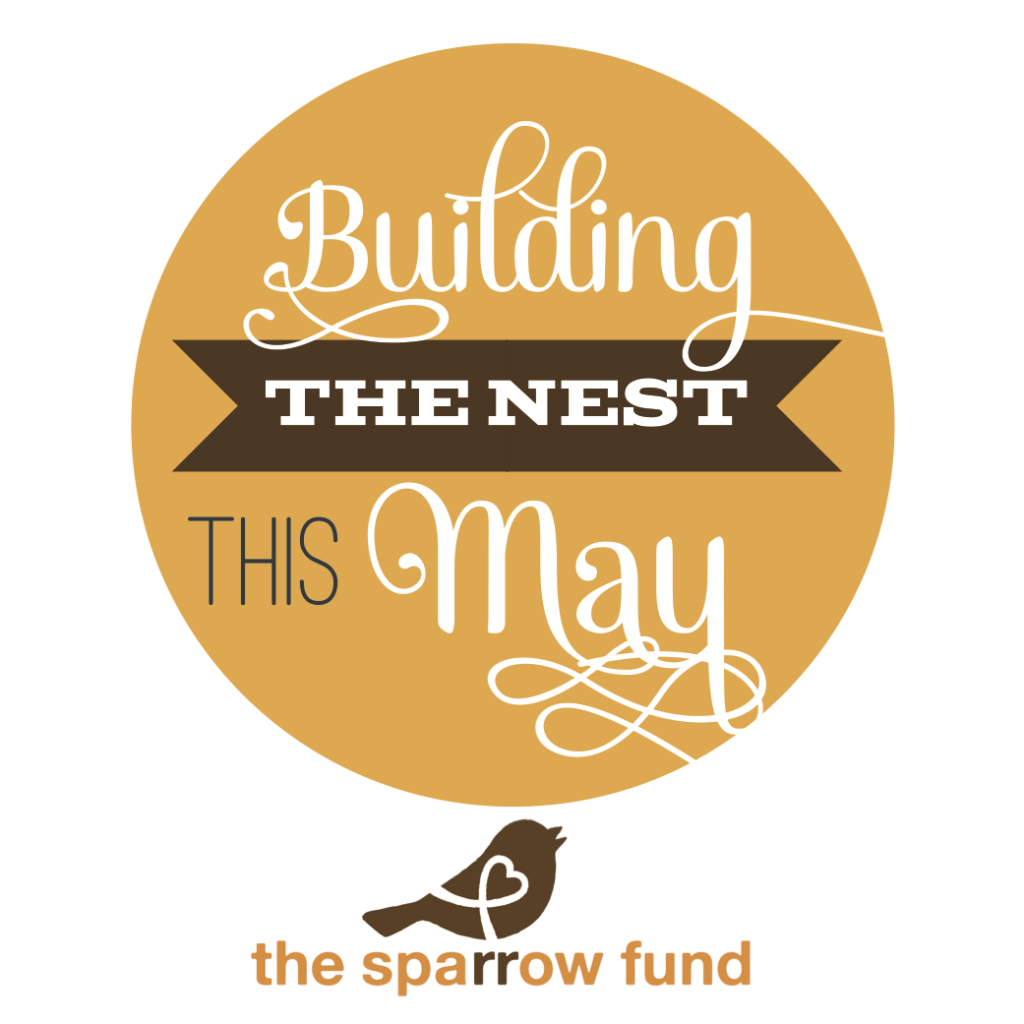 _______________________________
Jillian Burden is still adjusting to this beautiful thing called motherhood; she and her husband are still new parents to a son by way of a Russian adoption. While her belly might not have expanded, her heart and her faith sure grew as her family did! You can read about this soul stretching journey to parenthood on her blog.
Like it? Share it.
If you had been mine from the beginning, I would have cried tears of joy as soon as I knew you were growing inside me.
If you had been mine from the beginning, Daddy and I would have stayed up late at night dreaming about you: who you would be, what you would look like, who you would become. I would have sung lullabies to you, and Daddy would have read books to my tummy as I rocked gently in my rocking chair.
If you had been mine from the beginning, Daddy and I would have walked through the baby store, hand in hand, making plans for you. I would have been so proud of my big baby belly, and thrilled with each tiny kick from inside. As the time grew closer for you to come, we would have been so excited; we hardly would have been able to wait to meet you.
If you had been mine from the beginning, Daddy would have held my hand, lovingly urging me on as I struggled to bring you into the world. Your first cry would have filled us with a joy like no other, and I would have cried happy tears as I held you in my arms for the first time. Recognizing my voice, you would have looked up at me with your beautiful, trusting brown eyes…
…and you would have known instantly that I would love you forever.
If you had been mine from the beginning, I would have held you close to my heart: nursing you, covering your downy baby head with millions of tiny kisses, marvelling at all your perfect little fingers and toes. I would have held you for hours, drinking in your warmth and your sweet baby smell.
If you had been mine from the beginning, your new-baby cry would have broken my heart. I would have spent hours soothing you, if you needed to be soothed. I would have rocked you and held you and changed you and fed you and burped you and kissed your sweet baby face another billion times.
If you had been mine from the beginning, I would have spent hours looking into your darling face. I would have cooed at you and smiled at you, and Daddy and I would have gazed down at you with love in our eyes, and we would have celebrated those first little sounds that you made…and every little thing you did after. When you rolled over, sat up by yourself, clapped your chubby hands, spoke your first words, took your first steps…we would have been right there cheering you on.
If you had been mine from the beginning, I would have kept you with me always. I would have made up a gazillion silly little songs to animate our days together, and I would have read books to you and dressed you up and put tiny little bows in your hair. As you grew, I would have taught you your numbers and your colors and your ABCs, and I would have pushed you on the swings at the park. You would have laughed and squealed in delight, and looked at me with your beautiful, chocolate brown eyes…
…and you would have known that Mama would love you forever.
If you had been mine from the beginning, you would never have worried that someday, you might be abandoned. You wouldn't, deep down, think that you're worthless and unlovable.
If you had been mine from the beginning, you wouldn't feel the need to control everything. You wouldn't be so full of anger and fear and you wouldn't have the need to fight against me and Daddy and against everything we ask you to do.
If you had been mine from the beginning, things would have been so much easier for you…and for me…and for our family. You would have been a happy, care-free child. You would have let the adults worry about adult things, and you would have spent all your energy on simply being a child.
If you had been mine from the beginning, you would trust me, and you would trust my decisions.
You would trust that I'll love you forever, no matter what.
It's been a tough day, huh, kiddo?
It was the kind of day that makes me cry out to God, asking Him to take away the suffering I see in your heart. The suffering that's in my heart, too. I wish life could be easier for us, and especially for you, dear one.
But I know you're going to make it.
We're going to make it.
I believe in you, and I believe in us.
We're fighters, you and me.
Oh, girl. How I wish you had been mine from the beginning.
No matter how many days like today we have, no matter what you do or how angry I am or how horrible you feel, I promise you…I'm so thankful that you're mine now.
Mama loves you, Butterfly.
And I'll love you forever…no matter what.
___________________________
I'm married to a man that makes me laugh so hard that I usually end up in tears. He was saved four years into our marriage, and then we turned our union over to God and His plans. God took our offer and blessed it with four children in two years (two through the U.S. foster care system and two through good old-fashioned baby-making), and has since given us two more little biological sons, now 2 years and 3 months old. If anyone's keeping track, that's six children in seven years. Did I mention I'm insane? No seriously, God is good. He's gently leading me down the paths of mothering, partnering with my incredible hubby, dealing personally with impulsive ADHD, homeschooling, and helping our adopted kids overcome Reactive Attachment Disorder. I've got a lot to learn, and most days I wonder how God could possibly love me with the absolute abandon that He does. I'm so thankful and so blessed, and I write about raising RAD kids, my family, and my lifelong journey of Overcoming Myself. Feel free to visit, but don't expect perfection…the only good in me comes from Him.
Like it? Share it.
I'm such a numbers girl. Give me percentages, and I start tracking. When I read these numbers a few weeks ago, they stuck with me. The U.S. Department of Health & Human Services reported that 30% of all Americans reported having seriously considered adopting at some point in their lives. Yet, only 2% actually adopt. That means that of those who say they've seriously considered adopting, 14 out of 15 don't ever do it.
Why not? It's daunting—the financial cost, the impact this child will have on your family, the overwhelming number of unknowns. It's no easy thing. We get that.
As we walked that road ourselves and alongside other families, we saw a need. That 2% of families who were taking that leap of faith to bring a child into their family through adoption—they needed more support. So, we took the leap of faith ourselves to do whatever we could to do just that.
Two years ago, we started The Sparrow Fund to give grants to families specifically for the purpose of family support through programs around the country that provide preadoption support and counsel, on-call support for families while they travel across the world to meet their children and bring them home, and support once they are home to help both the parents, new son or daughter, and family as a whole become a family.
Recognizing more need, we added programs to encourage and support families from those waiting to meet their children to those who have been home for years. We've helped families learn about the unique needs of children who have been adopted in the classroom and how to use correction as a vehicle of connection with their children in a way that is sensitive to them and their histories. And, this past February, we put on a weekend retreat for couples to be reminded of their calling as parents and refreshed to continue serving their children. When registration opened nearly 5 months before the event, it sold out in 16 hours. The need is undeniable.
We're not interested in growing the number of families adopting; that's not our focus. Rather, our focus is on pouring into that 2% who are adopting; we want to love and serve them and do whatever we can to make the daunting a little less daunting. And, maybe, just maybe, as the daunting becomes less daunting and the support available becomes more readily available, we'll see more of those families who have seriously considered adopting say, "maybe we can do this afterall."
Today starts an important month around here. A whole bunch of folks are coming alongside of us, saying, "Yes, we support adoptive families and the work of The Sparrow Fund to pour into them. And, we want to help." This May, in our third annual fundraiser, about 50 businesses have made a commitment to help us build the nest so that we can help others as they build their nests. In addition to event sponsors who have donated set amounts to get that nest going, these business partners have made the commitment to give 10% of their total sales throughout the month of May to The Sparrow Fund so that we can do what we do.
That's where you come in. CLICK HERE to see them all on one page or check them out below. Start clicking, and start shopping. Shopping purposefully is pretty fun. Let's work together to make that 10% something crazy big.
Clothing & Accessories
Jewelry Design
Art and Design
Home
Special Gifts & Treats
Books, Toys, & Musical Things
Photographers
Sponsors for Building the Nest
To get the nest started…
Sparrow Sponsors
Trades of Hope empowers women to create sustainable businesses worldwide. Their desire is for women worldwide to realize their potential as world changers, business owners, dream creators, and heroes of their own stories. A perfect supporter to build the nest for The Sparrow Fund.
Norman L. Graham, Inc. is a premier builder of custom homes and additions in South Central Pennsylvania. From design to construction, every Norman L. Graham project is built with care and careful attention to detail. What better partner to build the nest than a company who is all about nest building.
Other Sponsors
Kelly at The Sparrow Fund
to be added to this post and future posts as part of this effort.
 ________________________________________
Forever changed by our experience of being adopted and adopting, Kelly is a stay-at-home mom/manager to 4 children and a professional juggler, juggling her calling as wife and mother with her secondary callings (editing and serving adoptive families through The Sparrow Fund). You can learn more about their adoption story, how they've been changed, and what life for them looks like on their personal blog, My Overthinking (where she's going to have some super sweet giveaways this month, by the way).
Like it? Share it.